Launching March 9th!
February 14, 2019 1:44 pm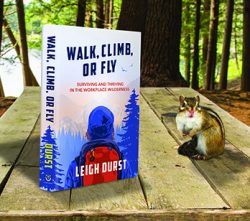 We're happy to announce that Walk, Climb, or Fly will launch at SXSW on Saturday, March 9th.  Stay tuned for announcements and a special launch offer just for you!
We'll kick off with a private launch party on Saturday, March 9th at a hot Austin location. If you'll be in Austin during SXSW, be sure to drop us a line to let us know!
On Monday, March 11, author Leigh Durst will be speaking at SXSW at the Austin Convention Center at 12:30 pm.  Her session, "A Better Way to Work" is listed on the SXSW Schedule.
Leigh's session will be followed by a book signing at the SXSW bookstore!  We'd love to meet you there!
Leigh will also highlight Walk, Climb or Fly in Scribe's author podcast the week of March 10th and will soon be featured on the Future of Work podcast!
Stay tuned!